A Wilde Biography
Oscar Fingal O'Flahertie Wills Wilde was born on 16 October 1854 in Dublin. He would later assert that a name which is destined to be in everyone's mouth must not be too long. All the world would come to know him simply as Oscar Wilde. His father, William Robert Wilde, an eminent eye doctor, was appointed Surgeon Occulist to the Queen and was knighted. His mother, Jane Speranza Francesca Wilde, wrote patriotic Irish verse under the pseudonym, Speranza.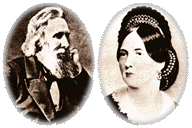 Sir William Robert Wilde and Lady Jane Speranza Francesca Wilde
Oscar Wilde was educated at Trinity College, Dublin, and later at Oxford--where he discovered the dangerous and delightful distinction of being different from others. Although he won numerous academic prizes, he eschewed the normal pursuits of academic life; his greatest challenge at University, he would frequently confide, was learning to live up to the blue china he had installed in his rooms.
While at Oxford Mr. Wilde fell under the influence of Walter Pater and the doctrine of art for art's sake. Mr. Wilde moved to London in 1879 and set about establishing himself as the leader and model of the aesthetic movement. He wore velvet coats with contrasting braid, knee britches, loose-fitting wide-collared shirts with flowing ties and lavender-colored gloves. He frequently carried a jewel-topped cane and was caricatured in the press flamboyantly attired and bearing an over-sized sunflower--an icon of the movement.
In 1881 his collected poems were published. In 1882, short of money, Mr. Wilde accepted an invitation to embark on a lecture tour of America. The tour was an unmitigated smash and Mr. Wilde returned to London in triumph and richer by several thousand pounds.
Mr. Wilde married Constance Lloyd, the daughter of an Irish barrister in 1884. They had two sons, Cyril and Vyvyan.
In 1891 a guest of the Wilde's brought a young man to tea. Alfred Douglas--Bosie--was the foppish, poet son of the Marquess of Queensberry. They were immediately attracted to each other. Bosie was taken with the brilliance of Mr. Wilde's conversation and wit, and Mr. Wilde was entranced by young Queensberry's good looks and title.
On the heels of the success and titillating scandal of The Picture of Dorian Gray (1891), Mr. Wilde produced his best known plays. Among these timeless social comedies were: Lady Windemere's Fan (1892), A Woman of No Importance (1893), Salome (1893), The Importance of Being Earnest (1895), and An Ideal Husband (1895). These were well received by the public and Mr. Wilde became the toast of London society--lionized for his brilliant wit, his gregarious charm and manner.
Outraged by his son's association with Mr. Wilde, the Marquess of Queensberry left a visiting card at Wilde's stylish London club, the Albemarle, upon which he had written, To Oscar Wilde posing as a somdomite--his spelling. Encouraged by Bosie whose hatred for his own father obscured his affection for his friend, Mr. Wilde pressed suit for criminal libel. The case was lost and Wilde charged with homosexual offences. The jury failed to reach a decision at the first trial, but at a second trial Mr. Wilde was found guilty and sentenced to two years in Reading Gaol (pronounced redd-ing jail). He was forced to labor in prison and his meals consisted mainly of gruel, suet, water and greasy cocoa. While in prison Mr. Wilde was declared bankrupt; his house and possessions were sold to pay his debts.
Mr. Wilde left prison on 19 May 1897, and left England for France. He assumed the name Sebastian, after the well-known Christian martyr slain in a hail of arrows, and died a broken man on 30 November 1900. In 1912 a monument to Oscar Wilde, in the mayan style, was errected at his gravesite at Pere LaChaise Cemetary in Paris by an anonymous woman.

© 1998-1999 Adel Rojo Llamazares
Created 11/05/99