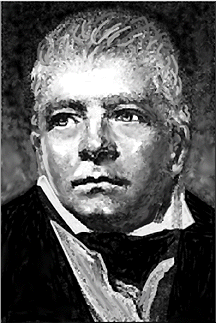 He was born at Edinburh, on August 15, 1771 and died at Castle of Abbotsford on September 21, 1832.
Sir Walter Scott was a scottish novelist, poet, and man of letters, the founder of the historical novel, and the first British novelist to become a great public figure.
The son of Sir Walter Scott, a solicitor and writer to the signet, whose portrait is drawn by his son as Saunders Fairford in Redgauntlet; and of Anne Rutherford, the daughter of a distinguished professor of medicine at Edinburgh University. Scott liked to think of his remoter ancestry as including picturesque Border adventurers as well as feudal dignitaries, and he looked back with pride to Walter Scott of Harder, "Auld Watt,", a 16th-century Border character who figured in ballad and story and whose grandson, Walter Scott, first laird of Raeburn, was the father of a Walter Scott ("Beardie") who was well known in Teviotdale and was Scott's greatgrandfather. In his memoir of his early life, written in 1808 (and included in J.G. Lockhart's Life), he emphasized the colourful aspects of his Border ancestors, about whom as a child he had heard stories from his paternal grandmother and his uncle, Thomas Scott. Thus from early childhood his imagination was nourished by stories of an exciting past which conflicted with the staid Calvinist Whiggery of his father.
EARLY LIFE: An attack of poliomyelitis at the age of about 18 months left him lame, and, after vainly seeking a cure from a variety of physicians, his parents senti him to stay for some time with his paternal grandfather at the Border farmhouse of Sandyknowe. In his fourth year he spent about a year at Bath, again in search of a cure, before returning first to Edinburgh and then to Sandyknowe, where he divided his time between country expeditions (for he was by then healthy and vigorous in spite of his lameness) and avid reading of whatever poetry, history, and drama he could lay hands on. He had a remarkably retentive memory, and astonished visitors by his eager reciting of reams of poetry.
In 1778 Scott entered the high school at Edinburgh, and three years later, under the headmaster, Alexander Adam, attained fluency in reading Latin. He left in the spring of 1783 and spent six months with his aunt Janet at kelso, where he further developed his love of the Border country and where attendance at the local grammar school improved his Latin. There, too, he read avidly "ten times the usual quantity of fairy tales, eastern stories, romances, &c" and discovered and delightedly read Bishop Thomas Percy's Reliques of Ancient English Poetry. His explorations of the neighbouring countryside developed that "love of natural beauty, more especially when combined with ancient ruins, or remains of our fathers' piety or splendour," which was to reflect itself in his writing.
In the autumn of 1783 Scott matriculated at the Old College of Edinburh, and attended the usual Latin and Greek classes, though he never mastered the latter language. In May 1786 he began a five years legal apprenticeship with his father but continued his miscellaneous reading and his country rambles. In 1788 he began to attend law classes at the university as well as classes in history and moral philosophy, and having served his solicitor's apprenticeship, he decided to enter the higher branch of the legal profession and become an advocate. Between 1788 and 1792 he made a variety of friends among his fellow students (notably William Clerk; Adam Ferguson, son of the famous professor of moral philosophy; and John Irving). It was a Ferguson's house that Scott had met Robert Burns on the latter's visit to Edinburgh in the winter of 1786-87. He worked hard at his law studies but also led a sociable life, attending literary an debating societies and walking and dinin with his friends. In July 1792 he qualified as an advocate.
It was during his student days that Scott's inherent love of conviviality, which was an importat aspect of his character, first manifested itself. All his life he wanted to have his place in a hierarchy of social life in which equals as well as superiors and dependents played their recognized and accustomed parts. This wish was bound up with his sence of community, which, in turn, was bound up with his sense of history. He never practised extensively at the bar, but he learned a great deal about human nature and also about traits peculiar to the Scots character from his connection with the law.
The outbreak of the French Revolution appalled Scott by its wholesale scrapping of tradition and ruthless break with the past, and when war with France developed he hailed enthusiastically the enrollment of volunteers. In 1797 he eagerly joined the new cavalry corps, the Royal Edinburgh Volunteer Light Dragoons.
He continued to indulge his taste for rural excursions and explored further into the Border country than he had yet done, making a notable visit to Liddesdale in the autumn of 1792 (a visit repeated annually for the next seven years) on which he got to ckow the country people and collected ballads. About the same time he was influenced by the new German Romanticism, which had been introduced to Edinburgh by Henry Mackenzie. The English "Gothic" novel also cast its spell. Scott's first published work, The Chase, and William and Helen: Two ballads from the German of Gottfried Autustus Bürger, which appeared anonymously in 1796, shows his interest in the ballad temporarily turned toward the fashionable German vogue, as does his poor translation of Goethe's romantic tragedy, Götz von Berlichingen (1799).
MARRIAGE: By this time Scott had been through the one passionate love affair of his life, his unsuccessful courtship of Williamina Belsches, who was of a higher social class than that in the early 1790s, and after many ups and downs it was ended in October 1796 by Miss Belsches's engagement to a rich young landowner, William Forbes. There is no doubt that this failure in love upset Scott deeply and permanently haunted his imagination. But his temperamental resilience, his active life, and his literary interests enabled him to avoid excessive brooding on his failure, and the publication of his two German ballad translations was soon followed by his ardent activities with the volunteers. He continued his eager reading of a great variety of literature and history throughout 1797, and in September made one of his characteristic expeditions through Tweeddale and over the Border to end up in the little watering place of Gilsland. There he met Charlotte Carpenter, daughter of a former head of the military academy at Lyons, and of his much younger and lively wife. Charpentier had run off to England with a young Welshman, had eventually come under the "protection" of Lord Downshire, and had returned to France when Lord Downshire married in 1786. Charlotte was educated in a French convent until 1787, when she went to England. She was baptized into the Church of England in May 1787 and apparently lived thenceforth with the family of Charles Dumergue, a successful French dentist in London, under the general supervision of Lord Downshire. When she met Scott she was visiting Gilsland with her companion, Jane Nicolson. She and Scott soon became engaged and were married in Carlisle on December 24, 1797. It was on both sides a marriage of affection rather than passion; Charlotte had a gay and lively dispositions but shared none of Scott's deeper interests. If, a Scott himself later admitted, their mutual feeling "fell short of love in all its forms," this was really what he preferred; "folk who have been nearly drowned in bathing rarely venturing a second time out of their depth," as he put it.
LITERARY BEGINNINGS: Scott and his bride set up house in Edinburgh. He was making a little money at the bar, his wife had brought him a few hundred pounds, and he had an allowance from his father. In 1798 they took a summer cottage at Lasswade, on the River Esk some six miles from Edinburgh. In April 1799 Scott's father died, while Scott and his wife were on a visit to London. Scott's meeting with M. G. Lewis in Edinburgh, 1798-99, and in London in the spring of 1799, encouraged another splash in the Gothic wildness of German Romanticism, which further postponed the emergence of his true literary interest and talents.
These at last manifested themselves with his edition of The minstrelsy of the Scottish Border. His view that the texts available to him represented oral corruptions of the original compositions led him to try to restore many of them to what he considered something closer to their original form; his methods of conflating, emeding, "regularizing," patching, orsimply adding to his texts are not today approved. Sometimes his efforts resulted in powerful and impressive poems, showing a sophisticated savouring of romantic detail which immediately betrays the hand of the improving editor. The last paragraph of his long introduction provides an important clue to the links in Scott's mind between patriotism, history, and literature: "By such efforts, feeble as they are, I may contribute somewhat to the history of my native country; the peculiar features of whose manners and character are daily melting and dissoving into those of her sister and ally. And, trivial as may appear such an offering, to the manes of a kingdom, once pround and independent, I hang it upon her altar with a mixture of feeling, which I shall not attempt to describe."
Scott had by now a wide circle of friends, including George Ellis, Richard Heber, that extraordinary self-taught prodigy John Leyden, James Hogg, William Laidlaw, another ballad enthusiast, Lord Dalkeith, Lady Anne Hamilton, and many more. In 1804 he brought out an edition of the medieval romance Sir Tristem, to which he added a "fytte" of his own composition. At last he found that he could not resist the temptation to turn minstrel in his own right, and what had begun as a ballad on the sufject of a goblin page suggested to him by Lady Dalkeith grew into a full-lenght narrative poem, The Lay of the Last Minstrel (1805).
The lord lieutenant of the county of Selkirk, who considered that he was spending too much time with the volunteers in Edinburh, invoked the longneglected rule that a sheriff should reside for at least four months of each year within his own jurisdiction, with the result that in 1804 Scott rented the pleasant house of Ashiestiel, on the south bank of the Tweed a few miles from Selkirk. In the same year his financial situation improved with the death of his uncle Robert Scott, who left him some properly which he sold for 5,000 libres.When the Scotts moved from Lasswade to Ashieltiel in the late summer of 1804 they had three children, two dauchters and a son, Walter (1801); a second son completed the family (1805).



---

This information has been extracted to Academic year 2000/2001
British Encyclopedia, Inc. © a.r.e.a./Dr. Vicente Forés López
© 1973 © Sergio Clavijo Ruiz
Universidad de Valencia Press
sercla@alumni.uv.es