Bienvenido Benvingut
Wellcome to my Homepage
on George Orwell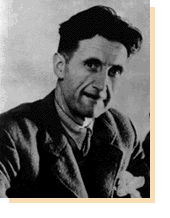 ---
Orwell questioned war, freedom of the press, totalitarian regimes. He was
a compromised writer.
You will find here some of the essays he wrote, a short biography, and very interesting information concerning his works.

Being part of a project run by Dr Vicente Forés, professor at the University of Valencia, for his course Literatura Inglesa II (code 4789), this page also includes my 'First Paper' as well as my Conclusion to this research work.
---
Index of contents
Homage to Catalonia - Orwell Essayist - Political Satires
---
Academic Year 1998/99
© a.r.e.a./Dr Vicente Forés López
Universitat de València Press
© Elisa Sala Montoro
Last Updated 18 May 99