ENTREVISTA A DEENA LARSEN:
A continuación voy a exponer una serie de cuestiones que le envié a Deena por e-mail para, de alguna manera, saber más cosas sobre ella ya que es escasa la información biográfica en internet.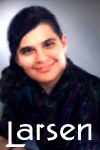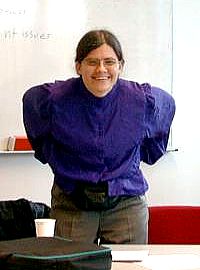 ..."my confessions of being a hypertext addict"...
 Where and when were you born?, Where did you grow up? and
where do you live now?


I was born and bred in Denver Colorado, USA. I have lived in San Francisco and 
Japan, but I still call  my mountains home, and I live in Denver now.




What did you study?


I studied at the University of Northern Colorado for my BA in English and 
Philosophy and the University of Colorado for my MA in English. These are two fields 
that don't seem to have any application in business, but were fun anyway.




What do you do now?


In real life, I am a technical writer for the Bureau of Reclamation. I did a 
website for them on Decision processes--http://www.usbr.gov/guide




Where have you worked throughout your life?


I have held lots of jobs in high school and college and beyond, from getting 
robbed at knifepoint on a graveyard shift at 7-11 to washing dishes at a country 
western bar to being a snack hostess in Japan and an English teacher consultant 
to a Japanese wedding company.  I settled down at Reclamation 12 years ago. I 
also teach composition at a local university and write and...




What are your future plans?


I will probably work at Reclamation as hypertext doesn't pay the bills.  I 
want to work enough overtime during the year so that I can go SOUTH of the Tropic 
of Capricorn during the winter months every other year. This year, I did an 
artist in residency type program in Melbourne Australia. I am setting up one for New 
Zealand in 2004, and would love to do one in Chile or Peru or something in 
2006...




What are your hobbies?


I like to hike in my mountains--I usually just go off with my survival kit and 
journal and forget to tell anyone where I am going.  I often take trails, but 
sometimes I just head out cross country.  We live in a beautiful wide open 
country with mountains above 14,000 feet (about 4,000 to 5,000 meters).



What do you like doing in your free time?


Well, after hosting the ELO chats, being on the Board at trAce, going to 
eliterature conferences, writing eliterature, doing my email, helping my friends, 
etc, my spare time is somewhat limited.  I also walk my cat for a half hour in the 
morning and evening--she is very fat.




What are your likes and dislikes?


I like rainbows and strawberries, black currant wine, old recipes, delving 
into odd mysteries, poking about graveyards, exploring new places, traveling.  I 
don't like people who go through life without thinking or questioning.






Todas estas preguntas han sido contestadas por la autora y he preferido dejarlas escritas en inglés (tal cual las ha contestado ella) por si acaso al traducirlas no decía exactamente lo que Deena había escrito.
Por otra parte os adjunto el e-mail original por si os apetece verlo.