INTRODUCTION
CONTEXT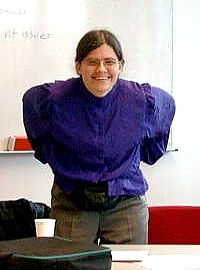 Deena Larsen started experimenting with hypertext back in 1988, following a friendís
suggestion to use a computer in order to show with links the connections she wasnít able to show through linear literature.The resulting work was her first hypertext, Marble Springs.
So thanks to her friendís advice, to whom all hypertext lovers sould be grateful, she became addicted to this wonderful kind of literature and hasnít stopped writing ever since. Deena Larsen wrote Ferris Wheels in 1999.
She now lives in Lakewood, Colorado, with her husband and her two cats, where she continues to write wonderful hypertexts.
If you'd like to find out more about her and her work, here are some interesting sites, which have also been a great help to us while working on this paper. Enjoy!





http://www.deenalarsen.net/ This is Deena Larsen's homepage, where she includes interesting info on the fascinating world of hyperliterature, a list of places where to find hypertexts, a current update to her own hypertexts and links to hypertext happenings.
http://www.courses.vcu.edu/ENG-eel/webliography.htm Here we find a complete webliography of Deena Larsen with links to her hypertexts and a short comment on each of them.
http://www.cwrl.utexas.edu/currents/fall01/survey/larsen.html In this page we find out about how she started to write hypertexts and some imformation on her works. We can also read a very interesting interview with the author.
http://www.heelstone.com/meridian/ If we click on "archives" we find a fascinating article written by Deena Larsen ( Close Encounters of the Technical Kind) in which she compares IT and the way it lures people to the computer screen to the mythological sirens that attracted fishermen to the bottom of the seas with misterious songs. In this site we can also read many other interesting articles on the subject "women and technology" and much, much more. Definitely worth a visit.
http://www.wordcircuits.com/dir/authors.htm Here we find a complete list of hypertext authors and their works.
---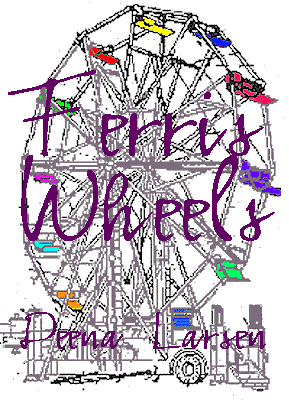 PLOT

Ferris Wheels is a 16-page hypertext about a ferris wheel ride on which the narrator, a divorced woman, reflects on life and tries to decide whether she should accept a marriage proposal from her boyfriend or not.
The action takes place during one summer day at the People's Fair in Denver, Colorado (which is also Deena Larsen's hometown). For the narrator, who is also the main character, this visit to the funfair is a yearly ritual, but this time she's there with her new boyfriend, whom she met accidentally at the same place one year before. Back then they collided while he was biking across the park, and she recognised him from college. After that they went for coffee and ended up talking all night. And they've been together ever since.
When he suddenly asks her to marry him, she quickly changes the subject and insists on riding the ferris wheel. During this ride, she reflects on his proposal expressing all her doubts, her fears, her memories from the past and her hopes and dreams for the future. This ride represents life itself and her moods change according to the height in which the car is. When they're on top, her thoughts are more philosophical and transcendental, but when they're at the bottom she's more realistic.
What's special about this particular hypertext is that it can be read both in a linear and in a non-linear way, unlike the rest of Deena larsen's hypertexts, which only allow for a non-linear reading.
---
Academic year 2001/2002
© a.r.e.a./Dr.Vicente Forés López
© Olga Lledó Oliver
© Catalina Díaz Beveridge
Universitat de València Press
olleo@alumni.uv.es
cadiazbe@alumni.uv.es