ivanhoe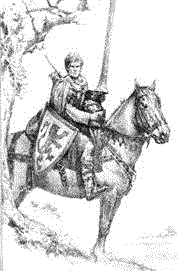 Summery of the Novel:
A tale of chivarly set in the age of Richard the Lion-Hearted. In the story Wilfred of Ivanhoe loves Rowena, but his father plans marry her to Athelstane of Coningsburgh. Ivanhoe serves with King Richard in the crusades. King's brother John tries to usurp the throne with the help of Norman barons. Richard appears in disguise at the tournament at Ashby de la Zouch, where he helps Ivanhoe to defeat John's knights. At the tournament Sir Brian fall in love with Rebecca, a beautiful Jewess. She is taken captiva with her father Isaac, Rowena, Ivanhoe and Cedric by the Norman barons and imprisoned in Torquilstone. The King and his band of outlaws, among them Robin Hood, release the prisioners, but Rebecca is carried off by Bois-Guilbert. Rebecca is charged of witchcraft. Ivanhoe appears as her champion, opposing Boris-Guilbert, who dies. Rebecca, seeing Ivahones love for Rowena, leaves England with her father.
Michael Ragussis has argued taht Scott's Isaac the Jew and his daughter Rebecca restaged England's medieval persecution of Jews and criticized the barbarity of persecution and forced convesion. Rebeca is a healer and a voiced of moderation between Saxon knights and Normans.
kuusankosken kaupunginkirjasco © 1997
The novel on-line:
the setting:
The general setting is England. There are four primary settings throughout the story. The first of these settings is Rotherwood, home of Cedric. It is near here that Ivanhoe meets Isaac and saves his life. The second setting is Ashby. Ashby is the site of the tournament. Ivanhoe wins the tournament under the name of the Disinherited Knight, but a knight wounds him. While traveling, thee Norman knights capture Cedric, Rowena, Athelstane, Isaac, Rebecca, and Ivanhoe and take them to Torquilstone. This is the third setting. Outlaws under the leadership of the Black Knight besiege the castle. During the battle, Brian de Bois-Guilbert takes Rebecca to Templestowe, the home of the Templars. This is the fourth setting. The Grand Master of the Templars tries Rebecca for witchcraft. Ivanhoe saves her by defeating Brian de Bois-Guilbert. The story ends with the marriage of Ivanhoe and Rowena at Rotherwood.
The characters:
| | |
| --- | --- |
| Sir Wilfred of Ivanhoe is the son of Cedric the Saxon. Cedric disowns him because of his love for Rowena. Wilfred saves Isaac's life at Rotherwood, then receives armor from Isaac to fight in the tournament at Ashby. At the tournament, Ivanhoe defeats his opponents under the name of the Disinherited Knight. On the second day of the tournament, a knight wounds him, and Rebecca cares for him. After his rescue from Torquilstone, he repays Rebecca's care by defeating Brian at Templestowe. He marries Rowena and serves Richard I until Richard's death. | Sir Brian de Bois-Guilbert is a Templar who seeks revenge with Wilfred of Ivanhoe. He joins the Templars because his first love married a Gascon squire. He internalizes his grief and hatred. He meets Rebecca and sees his equal in her. He begs for her love, but he will not take it by force. His contending passions ultimately lead to his death in the lists at Templestowe. Though he is an evil character, he is not as evil as Front-de-Boeuf, because Brian has good intentions. |
| Rowena is Cedric's ward. She loves Wilfred though Cedric engaged her to Athelstane. She has an independent spirit and defies Cedric's wishes if she dislikes them. DeBracy, a Norman knight, courts her at Torquilstone, but she remains true to Wilfred. Wilfred rewards her by marrying her. Wilfred and Rowena live contently as Wilfred serves under Richard I. | Rebecca is Isaac's daughter. Though a Jew, she has loving feelings towards Wilfred. She cares for him when he is wounded, and he rescues her from Brian at Templestowe. She repays Wilfred with jewels and leaves England with her father for another country where she will serve as a healer. Sir Walter Scott uses Rebecca as an example of the good of the Jewish race. |
| Cedric the Saxon is Ivanhoe's father. Cedric disowns Wilfred because Wilfred loves Rowena. Cedric wants Athelstane and Rowena to marry because they are Saxon royalty. Cedric hates Normans, and everything he does reflects this bias. He disowns Wilfred because Wilfred participates in Norman events. Cedric forgives his son after Richard I intervenes in the problem. Cedric never overcomes his hatred of Normans, but he tolerates them after all of his ordeals. | Isaac of York is a wealthy Jew. His wife is dead, so he is very protective of Rebecca, his daughter. Normans and Saxons despise him and his race because of their practices in money-lending. Sir Walter Scott uses Isaac as an example of the evil in the Jewish race. Isaac epitomizes the evil of the Jews through his greedy and selfish practices. Isaac has good traits as well. In the middle of racial injustice and tragedy, however, Isaac appears greedy and self-centered. |
| Athelstane is a Saxon nobleman descended from royal Saxon blood like Rowena. He changes from a glutton into a chivalrous nobleman as the plot progresses. Originally, he has no great passions or motivations. Rather, he participates in events because of intense persuasion by Cedric. His love for food never ceases throughout the novel. Towards the end of the novel, he becomes a more noble person because of his honesty. Though engaged to Rowena, he gives her to Wilfred because he knows that she does not love him. He faces this truth, and his nobility shines in these moments. At the close of the novel, he does not usurp Richard's throne; he rules only his race. | Richard Coeur-de-Lion returns from the Crusades as the Black Knight. He performs many deeds of chivalry including the storming of Torquilstone. He unites his loyal followers and destroys Prince John's plot to take the throne. Richard reconciles Wilfred with Cedric and places Wilfred in high position. Sir Walter Scott uses Richard as an example of the good of the Norman race. He is the only Norman character that epitomizes chivalry. |
ivanhoe & Scott:
"As a work of art, Ivanhoe is perhaps the first of all Scott's efforts, whether in prose or in verse; nor have the strength and splendour of his imagination been displayed to higher advantage than in some of the scenes of this romance. But I believe that no reader who is capable of thoroughly comprehending the author's Scotch character and Scotch dialogue will ever place even Ivanhoe, as a work of genius, on the same level with Waverley, Guy Mannering, or the Heart of Mid-Lothian. "
"The life of Scott" by J. G. Lockhart
Academic year 1999/2000
Ó a.r.e.a/ Dr. Vicente Forés López.
Ó Susana Noblejas Granero.
Universitat de Valčncia Press
---
kuusankosken kaupunginkirjasco © 1997