MICHELLE LYNSEY BATES
Course 14171 -
Hypertexts and English Literature
Autumn/Winter Semester 2000/2001


C.S. Lewis
and
"The Chronicles of Narnia"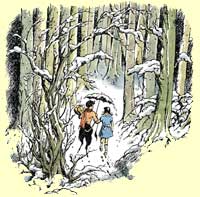 "Winter in Narnia"
Courtesy of Jonathan Gregory
© http://members.tripod.co.uk/Jonathan_Gregory76



First paper My first paper outlining the aims of my research into C.S. Lewis
A Literary Biography of C.S. Lewis A detailed biography pertaining to the literary career of Lewis
Chronology of Lewis' Life A comprehensive chronology of the life of Clive Staples Lewis
Primary works of C.S. Lewis A listing of literary works by Lewis, subsectioned into genres.
Secondary Resources A listing of secondary resources about Lewis and his works, with comments from the original author concerning their general content and his views on their usefulness
Other Arts A page about the BBC Television dramatisations of "The Chronicles"
About the Chronicles Useful background information about "The Chronicles" and their reading
Timeline A simultaneous timeline of Narnian and English history originally published by Lewis, helpful to the reader
A Religious Aspect to "The Chronicles" The deeper Christian message which can be discovered
Useful Links A listing of links to other web sites about Lewis, his "Chronicles" and other works


A Summary
Through my research into C.S. Lewis' life and his "Chronicles of Narnia", I feel that personally I have learnt a lot. I discovered a number of very useful web sites on the subject (to which links can be found on my page "Useful Links"), and through them found that there is a lot more to "The Chronicles" than may at first meet the eye. They contain a much deeper Christian message behind the enjoyable children's stories that many know and love. I also became more aware about the life of one of the most successful writers of the twentieth century and began to see how his personal experiences and beliefs had a profound effect on his literary career.
In conclusion, I have very much enjoyed my research and have endeavoured, in the creation of my web site, to gather together in one place some of what I consider to be the best and most useful information that I have found on the internet. I hope that you will find it as interesting and productive as I have!
A Thank You
I would just like to say a big "thank you" to all of those who have let me edit and republish their work or create a link to their web site for the purposes of my research. I hope that the results meet with your approval.

Academic Year 2000/2001
© a.r.e.a./ Dr. Vicente Forés Lòpez
© Michelle Lynsey Bates
Universitat de València Press
Página creada: 15/01/01 actualizada: 26/01/01
miba@alumni.uv.es