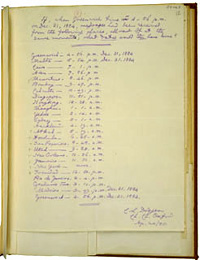 "Where Does the Day Begin?" A page of
manuscript notes dated 24 April 1885
concerning a problem which occupied
Carroll's thoughts over a number of years.
His nephew Stuart Dodgson Collingwood
stated "If a man the problem in his
biography of his uncle: could travel round
the world so fast that the sun would be
always directly above his head, and if he
were to start travelling at midday on Tuesday,
then in twenty-four hours he would return to
his original point of departure, and would
find that the day was now called Wednesday -
at what point in his journey would the day
change its name?"
As a child, Lewis Carroll demonstrated a considerable talent for mathematics and taught the subject at Christ Church College, Oxford, from 1856 until his death. Much of his time was devoted to lecturing and tutoring algebra, formal logic, and geometry to students who were too often poorly prepared and even hostile to these subjects. Carroll assisted his pupils by publishing his own supplementary texts and, on occasion, by making some rather dry course material livelier by using games, puzzles, and whimsical humor. For example, one of his texts on logic contains this logical premise: "Uneducated birds, who lunch on cayenne peppers, are easily provoked."
Carroll published several books and numerous pamphlets on such diverse subjects as probability, arithmetic computation, the theory of elections, and algebra. Some of these are still referred to by mathematicians and logicians. His research in these fields spilled over into the puzzles and games he relished. Carroll's fiction, and particularly the two Alice books, are also chock-full of references to mathematics and logic. A little knowledge of his scholarly work adds greatly to our understanding of his most famous books.